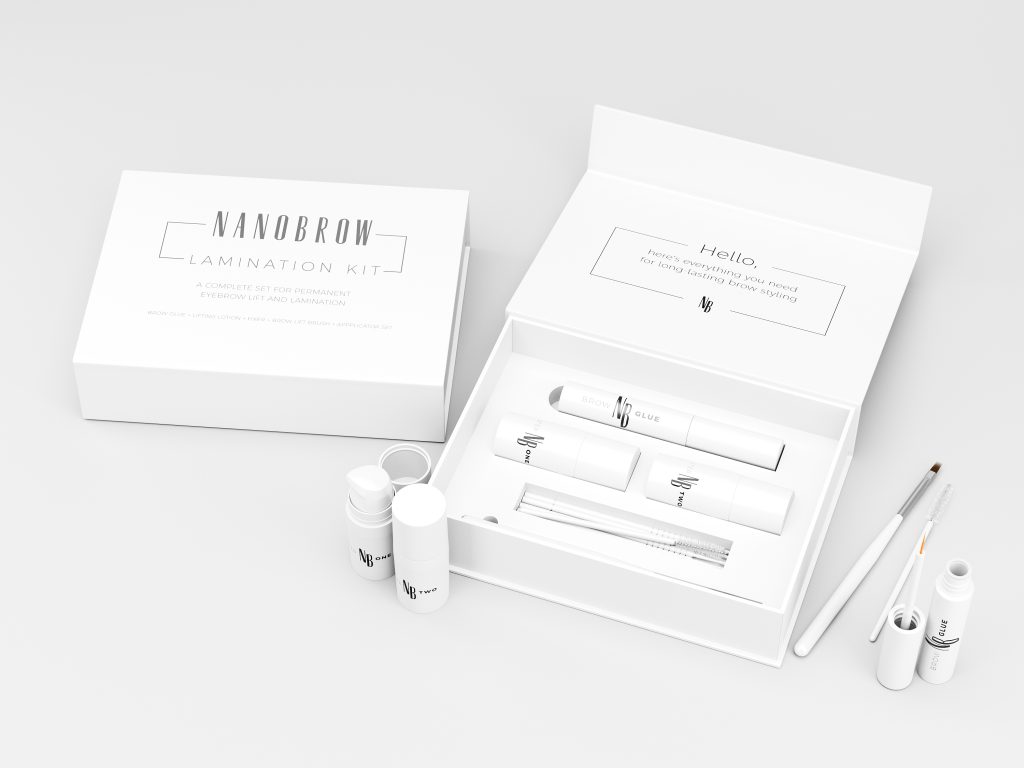 Brow lamination at home? Before you claim it's unrealistic, read the article below. It will take you less than 2 minutes to read it and you will learn how to easily and safely perform the brow lift and lamination treatment and enjoy perfectly shaped brows for weeks! You will also have a chance to discover a recommended brow lamination kit: Nanobrow Lamination Kit.
What is the brow lamination treatment for?
Brow lamination is a treatment designed to set and style your brows for more than just one day. Laminated eyebrows won't wash away during evening makeup removal. Once shaped, your brow look will last for several weeks, keeping your eyebrows styled and beautifully sculpted from dusk to dawn.
A good brow lamination kit – which one to choose?
A good lamination kit that you can easily use at home must be properly prepared. It certainly should not overwhelm you with the number of solutions and bottles or complicated instructions. Therefore, this brow lamination kit will certainly appeal to you! Nanobrow Lamination Kit was created for brow lamination at home, although its high quality and excellent results after lamination make it also very popular in professional beauty salons. The elegant box contains:
1. BROW GLUE – Brow glue (7ml / 0.24 fl oz).
2. LIFTING SOLUTION StepOne Lifting lotion (5ml / 0.17 fl oz).
3. FIXING SOLUTION StepTwo Fixer (5ml / 0.17 fl oz).
4. A SET OF NECESSARY BRUSHES AND APPLICATORS
---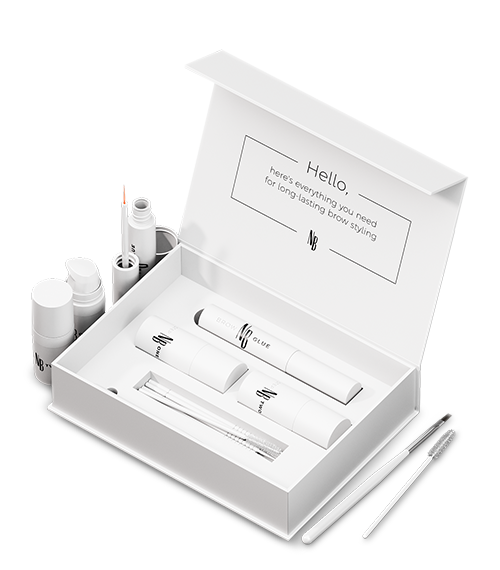 Everything you need for eyebrow lamination – Nanobrow Lamination Kit. Go to www.nanobrow.us and see how easy brow lamination can be
---
Nanobrow Lamination Kit. Laminate your eyebrows at home step by step
Remove your makeup with an oil-free micellar makeup remover.
Use the applicator from the kit to apply the glue (BROW GLUE bottle) on your eyebrows. Hold the product on for 25-50 seconds.
Reach for a clean brush from the kit and apply the Step 1 product on the eyebrows. Brush your brows in the desired direction to fix their shape. Leave it on for 5-8 minutes. Wipe it off with a dry cotton pad.
Take a clean applicator and apply the Step 2 solution on the eyebrows. Brush the hairs, giving them the desired shape. Leave the specific on the eyebrows for 5-8 minutes. Remove with a damp cotton ball.
Finally, gently brush through your brows with a spoolie and enjoy the effect. Congratulations – you have just laminated your eyebrows!
How long does the brow lamination with the Nanobrow kit lasts for?
DIY brow lamination with Nanobrow Lamination Kit takes about 15-20 minutes, and the results last on the brows for 6 even up to 8 weeks. That's two months of beautifully styled and perfectly shaped eyebrows, exactly the way you dreamed of.
Nanobrow Lamination Kit – how many applications is it enough for?
Nanobrow Lamination Kit is very efficient. It is enough for about 10-12 lamination treatments. That's more than a year of perfectly shaped and beautifully styled eyebrows! It is worth mentioning that the brows following the lamination treatment feature a different hair structure, making them look thicker and fuller. They look sculpted and super elegant. The fact that you don't have to style them every day or apply any makeup gives you great comfort daily. You simply wake up with beautiful, luscious eyebrows every day!
Where to buy Nanobrow Lamination Kit?
The fastest and most convenient way to get it is to order from www.nanobrow.us. We wish you a great shopping experience!