bareMinerals READY® To Go Complexion Perfection Palette contains all the cosmetics necessary for face make-up performance. As the name speaks for itself, the products are completely natural and include plant extracts and minerals into their composition. What in particular is hidden in bareMinerals READY® To Go palette? Basically, these are the following products: Broad Spectrum SPF 20 foundation, Broad Spectrum SPF 15 powder, a bronzer, a highlighter, Broad Spectrum SPF 20 concealer as well as two little make-up brushes.
At first glance, bareMinerals READY® To Go Complexion Perfection Palette resembles a pencil case. Why? Basically, it is closed with a zip and inside, there is elastic band working as a kind of a holder for a lipstick, a mascara and other slender cosmetics or accessories required for make-up performance. Another good side of the kit, in the inner side of the lid, there is a square mirror attached. The concealer is safeguarded by a transparent, plastic lid. In fact, all the remaining products are protected alike.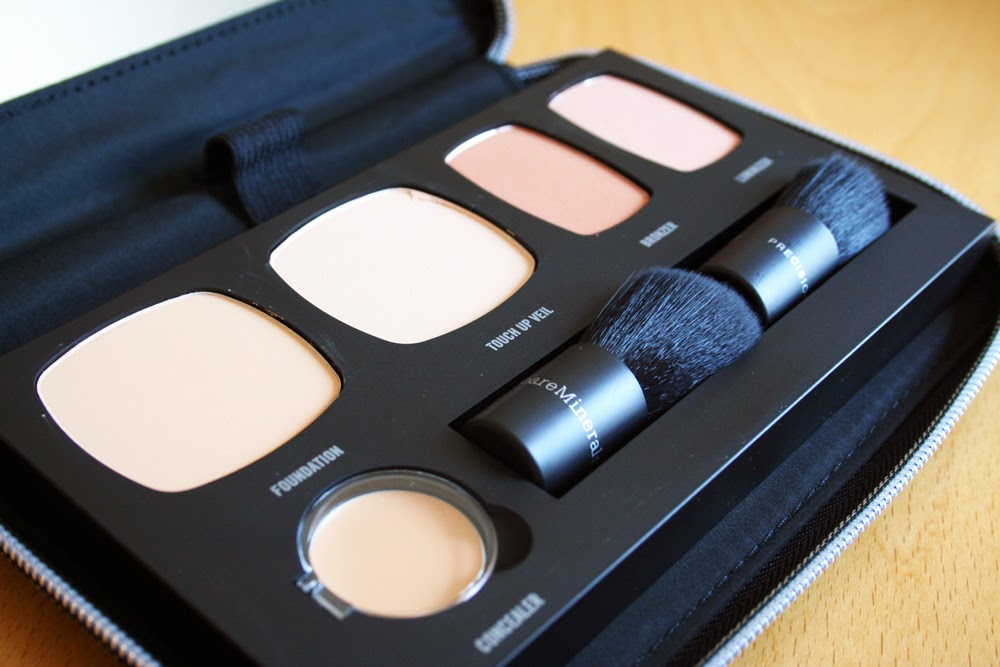 Broad Spectrum SPF 20 foundation. The cosmetic will work best for women having slightly visible skin imperfections since the foundation provides average level of coverage. Of course, the more layers applied, the better imperfection camouflage gained. Furthermore, the foundation provides natural look without the unattractive mask-like effect. What is more, the cosmetic holds approximately for six hours. Equally important, the product protects skin from solar radiation since it includes 20 SPF.
Broad Spectrum SPF 15 powder. The cosmetic has light and sheer form. When applied on oily or combination skin type, the product absorbs excess of sebum and counteracts face shining. What is more, the powder provides fresh and light make-up finish.
Naturally, the bronzer and the highlighter can be used for face contours shaping. Moreover, both cosmetics might be used as eye-shadows. However, you have to be careful when applying thick layers of the products. The bronzer is several tones darker than the foundation and the highlighter may emphasize skin pores if put on in galore amount. When it comes to the concealer, its colour is similar to the powder's shade. Obviously, you have to devote some time to let the concealer melt with skin tone, and then, you can apply the foundation and other products from bareMinerals READY® To Go Complexion Perfection Palette.
Worth mentioning, all the cosmetics include natural substances. Theses are, for example, jojoba oil, mica, iron oxides, algae extract, silicon, rose blossom oil, chamomile extract, grape seed oil and carrot, kiwi and lemon extracts.