Have you not followed Fashion Week in any of world's fashion capitals? Have you not watched fashion shows of any top designers? Have you not get through fresh news from cat walks? It is probable that you are not up to speed with current make-up trends! Today, the indication of fashion are propositions presented on the cat walks by make-up artists.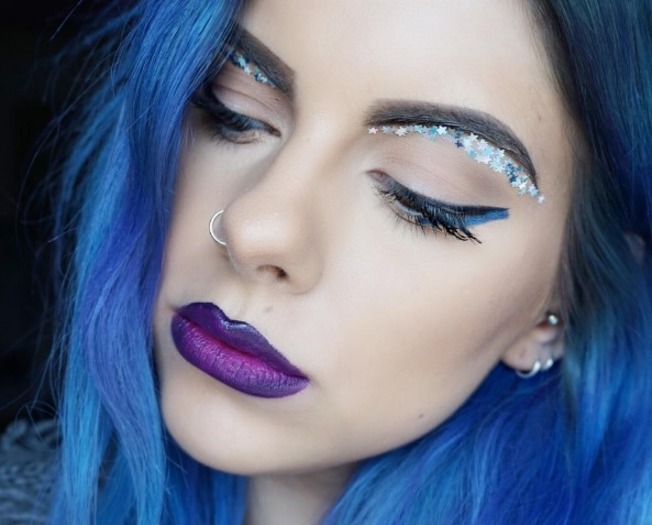 In a similar way started trend with brocade line under brow ridge. For the first time, this trick was used during the fashion show of collection by Giambattista Valli, designer who comes from Rome and gained enormous fame. His muse is classy woman, confident in her value and virtues, who does not have to provoke with her clothes. After all, no designer will say no to emphasis of his own style with, for instance bold make-up. This time it is brocade under brow ridge, which is intended to ensure glow and original look.
The precursor of this type of decorations became Gigi Hadid. She took part in the mentioned above fashion show of Valli. However, she took in to the next level, because she not only presented clothes and make-up on the cat walk, but also implemented brocade brows in her everyday make-up. She is often seen in interesting stylisations, and they were often accompanied by brocade brow ridge. Thanks to Gigi this trend became so popular among women all around the world. Can it be called this year's summer trend?
Skilful use of brocade in make-up is a perfect way for original highlight of chosen elements of face, like eyes. In case of brocade brow ridge you highlight in subtle way areas under eyes, and not like usually eyelids. However, in this trend you do not have to cover with brocade an entire brow, because then it can become a tacky decoration. Brow should be emphasised in a natural way and colour matched by use of henna or product for bows make-up.
In make-up with brocade you should apply line with brocade eyeliner or pencil right under the brow ridge. You can always try brocade make-up step by step with use of loose brocade. It takes a bit more skill, but then you can experiment a little with colour, thickness and shape of line. Search for more inspirations on the Instagram, where this trend uninterruptedly rules.