Collection of hair conditioners from Bumble and Bumble, Blow Dry, comprises of three precious pieces: Straight Blow Dry, All – style Blow Dry and Repair Blow Dry. Each of the products is designed to fulfill different tasks, is created for various hair types and contains different ingredients. Basically, the aspect that connects all the hair conditioners is the manner of working since the products neither clump streaks of hair together nor leave any stains on it. In general, once the Bumble and Bumble products applied on the hair, these become smooth, nourished and moisturized.
The first Bumble and Bumble cosmetic – Straight Blow Dry – is recommended to all women having curly, thick, unruly and hard to set hair. The conditioner has to be applied before hot styling, so before blow-drying, hair straightening or curling. Under those circumstance, Straight Blow Dry protects hair from hot air as well as prevents from water and keratin evaporation from the inside of strands. What is more, the conditioner eases hair straightening, smoothing, stylizing and moisturizing. When it comes to the composition, Bumble and Bumble consists of, among others, panthenol and glycerin that maintain right concentration of water in hair as well as plenty of glossing and regenerating substances.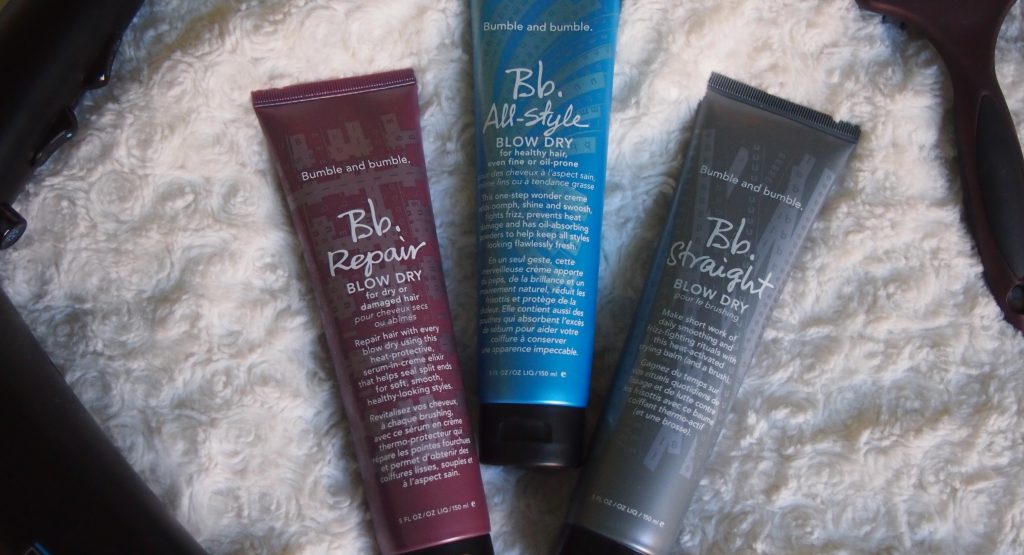 All – Style Blow Dry is a second cosmetic from Bumble and Bumble to talk about. This product is destined for normal, healthy yet greasy hair care. The cosmetic safeguards hair against hot air, counteracts hair electrifying, nourishes and regenerates. As far as application is concerned, the cosmetic has to be put on dump hair right before blow-drying. The product from Bumble and Bumble has to be worked evenly through streaks, separating these. Generally, the conditioner includes moisturizing, nourishing and regenerating substances.
There is yet another hair care cosmetic in Bumble and Bumble collection – Repair Blow Dry. This product is created for damaged and dry hair. The main aim of the conditioner is to counteract ends splitting, protect from hot air as well as from solar radiation. Furthermore, the cosmetic smooths, moisturizes and makes streaks of hair way healthier and stronger. Basically, Repair Blow Dry contains panthenol, proteins and resurrection plant extract.