Eye cream is one of many cosmetics, which every girl has close at hand. It is especially helpful, when skin suffers from first wrinkles or other imperfections. However, good eye cream is not all. What counts is its correct application. Do you know how to do that?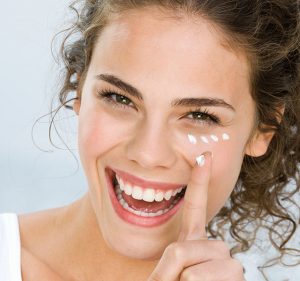 Eye cream application method has significant influence on skin condition. Right technique of application is directly connected with effectiveness of cosmetic. If product was applied incorrectly there can appear irritations, puffiness around the eyes, tearing and redness. You need to remember that skin in the eyes area is very delicate and liable to all kinds of damage. Skin around eyes is more prone to wrinkles, located here facial muscles work all the time and skin is so thin that blood vessels are visible through it. For this reasons, cream applied on this area is almost immediately absorbed. Equally important is structure of eye and directly related to it shape of upper eyelids (hooded eyelids). Method of application should be adjusted also to those anatomical characteristics.
Treatment with eye cream is best to start at age of 20. Prevention is better than cure. Choose light moisturising and oxygenating gels with natural ingredients. Helpful can be oils, cosmetic butters and hyaluronic gel. Before application put product in the fridge – cooled product has better properties. Eye creams are characterised by many properties: stimulate blood circulation, lighten, moisturise and smoother wrinkles. During application, remember about the order in which cosmetics should be applied. Conditioning preparations for eyes area apply always after skin cleanse, but before make-up or application of other products. Eye cream can be used both in the morning and in the evening.
How to correctly apply eye cream? You shouldn't apply cream near lashes line or close to lower or upper eyelid. Don't pull skin while applying, because it weakens collagen fibres and causes wrinkles. Apply cream in the area where you can sense bones of eye sockets; apply it also under browridge. Small amount of cosmetic tap in with fingertips starting at inner corners of eyes. Your skin will be grateful!