Hair is every woman's weak spot. Excessive hair loss, unsuitable hairdo and poorer hair condition – these things give us sleepless nights and bring us down.
Hair is something we want to be proud of. It proves our beauty and attractiveness, shows we care for our looks. Hair defines femininity.
That is why, every woman is so enthusiastic about hair care novelties and likes to try out latests hair products.
Among an array of hair care cosmetics, there is one you should test. It is Nanoil hair oil.
You will be fascinated by its innovation, exclusiveness and perfect composition. Lack of parabens and silicones will be a pleasant surprise that confirms the manufacturer's concern about your hair.
What about hair benefits? Your hairdo will look the way it has never looked before. If you dream of hair from a shampoo commercial, the dream can come true. Nanoil hair oil is like a beauty alphabet:
N
for NATURAL – Nanoil conceals the power of natural oils that offer amazing hair repairing properties
A
for ANTI-AGEING – Nanoil hair oil is a source of antioxidants that rejuvenate hair and slow down ageing processes
N
for NOURISHMENT – Nanoil hair oil provides hair with a number of valuable nutrients
O
for OMEGA-3, -6, -9 – Nanoil is a source of good fatty acids; all processes in cells would be disturbed without the acids
I
for INNOVATION – Nanoil is the one and only oil that matches 3 types of hair porosity
L
for LUXURY – Nanoil is perfect, its design, aroma and formula make the application a luxurious beauty ritual
Nanoil hair oil is the first product on the market that pays attention to hair porosity (condition of your hair). Therefore, it is available in 3 versions suitable for low, medium and high porosity. Each of hair types requires different ingredients and different care. Nanoil hair oil precisely fulfils the needs of your hair. Depending on how damaged your hair is, each version of Nanoil offers all that is necessary to nourish, protect, repair and beautify a hairdo. It is a revolutionary approach to haircare.
Nanoil website offers precise descriptions of each hair porosity type. Read them, define your hair type and choose a suitable Nanoil version. There are photos and detailed info for each porosity type. There is no need to visit a trichologist to identify hair porosity!
Natural power of oils – captured in each of 3 Nanoils – is the most essential part of the product. It provides complex care and repair. All three versions contain conditioning oils because only natural oils have the ability to match a specific hair porosity. Why? Oils are made of different size of particles. Depending on the content of fatty acids, they have different properties. For example, oils of small particles will be better for low porosity hair as they can penetrate tightly bound scales. Oils of large particles (non-penetrating) repair and protect high porosity hair. This hair type has highly raised cuticles (which uncover stem and expose hair to damage). The manufacturers of Nanoil have studied hair needs and structure so well that every version of Nanoil is composed of properly selected oils matching hair type and structure. If you choose Nanoil matching your hair porosity, you will give your hair precise nourishment, which results in beautiful hairdo.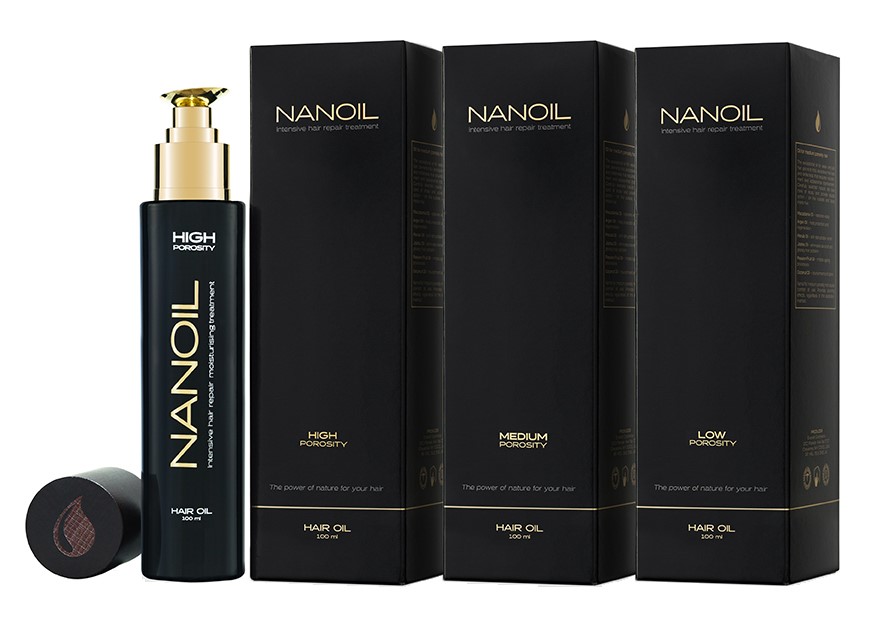 Nanoil hair oil is enriched with lots of other special ingredients that surprise with innovation. The most prestigious ones are two unique substances (kerastim and baicapil) which enhance hair growth and prevent hair loss.
What is more, Nanoil hair oils include substances that condition and rebuild hair, and protect from damaging action of the sunlight. These are: panthenol, keratin, lanoline, silk, vitamins and UV filter. They are known and praised for extraordinary properties in hair care. There is no other product that offers such a composition of these ingredients.
Moreover, Nanoil hair oil will surprise you with the application. It offers endless uses in hair care. Lots of products in one cosmetic. Nanoil is versatile and multifunctional. It lets you:
IMMEDIATELY IMPROVE HAIR APPEARANCE: apply 1-2 portions to dry hair, from mid-lengths. Leave-in. Style as usual.
PROTECT AND NOURISH HAIR: apply 2-3 portions to damp hair after washing. Blow-dry as usual.
REINFORCE HAIR AND BULBS: apply little oil to the scalp. Leave-in for one or several hours. Wash as usual.
INTENSIFY HAIR CONDITIONER: add a few drops of oil to a hair conditioner or balm. Leave-in for a few minutes. Wash off as usual.
PROTECT HAIR ENDS: rub a few drops in dry or wet hair ends. Leave-in.
Still haven't fallen in love with Nanoil? You must know that it is free from parabens and silicones. It is so safe that you can apply it also to scalp. You pamper your hair with full repair. Instead of promises, Nanoil presents you with real effects that will go beyond your expectations.