One of the most popular cosmetic oils which remains second to none. The price and availability (sold in every drugstore and healthy food stores) aren't the only things that make for its popularity. Castor oil is one of the few oils that are the subject of legend. The facts about its mind-blowing benefits are passed on from generation to generation. Is castor oil extraordinary? What does it contain? Does it really stimulate faster hair growth?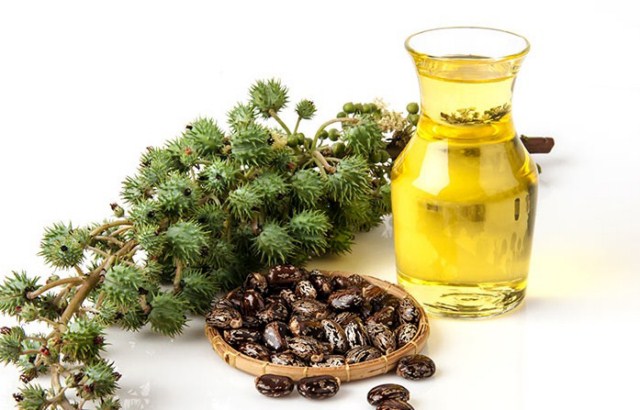 Castor Oil INCI: Ricinus Communis Seed Oil
Castor Oil – Ingredients
Ricinoleic acid is the key ingredient in castor oil giving it the unique qualities. It makes up 80% of the oil's composition. Other ingredients include oleic acid (7%), linoleic acid (3%), palmitic acid (2%) and stearic acid (1%). It is a thick light yellow insoluble liquid.
Castor Oil – Cosmetic Uses
Castor oil is often included in cosmetics. It is added to mascaras and lipsticks. It's an ingredient in soaps and lots of hair-removing waxes and hairstyling products. Still, its pure form is the most popular – an oil for hair and brows. Some women use it for enhancing their eyelashes but it easily gets into the eyes, causing blurred vision and (often) irritations. Castor oil is the most powerful when it's mixed with other natural hair oils – its composition is enriched with vitamins and minerals that other oils abound in whereas castor oil is missing.
Castor Oil – Hair Benefits
Castor oil is still a hair care hit. It is a brilliant remedy for weak, dull, thinning hair. The oil defines the hair shade and protects hair color. It is a good choice when seasons are changing – it may soothe the consequences of seasonal hair loss and even promote faster growth.
How to apply castor oil to hair?
You spread it on your scalp and let it sit in for minimum 30 minutes. Then, you wash it off with a mild shampoo. You can apply it to lengths – using this way, mix it with other oils, which aren't as thick, for easier application. For a successful castor oil hair treatment, you need to do it at least once a week.
Castor Oil for Hair – Effects of Hair Oil Treatment
shiny, smooth hair
voluminous and soft tresses
stronger hair bulbs
a faster hair growth
blocked hair loss
a defined hair color
regulated sebum secretion
Castor Oil – Reviews
Castor oil gets amazing reviews mostly as a product for weak, thinning hair. Women often say that castor oil stimulates hair growth. However, remember to use minimum amounts or apply a traditional conditioner before washing the oil off – the conditioner will emulsify the oil so it will be easier to remove with a shampoo. Castor oil gets good opinions among bloggers and vloggers. Still, it's often recommended as one of the ingredients of mixtures of hair oils because pure castor oil is thick so the application is quite tiresome.
Castor Oil – Price
It's definitely one of the cheapest natural oils. What's more, it's widely-available, which makes it an attractive product, too.