If your hair is dry, damaged and brittle, you can be sure that it calls for help. Strands in a miserable condition need a cosmetic that will help them regenerate from within, making them even more beautiful than they were before. This is how Nanoil Keratin Hair Mask works. What is it? This is the best hair mask with hydrolyzed keratin to reconstruct damaged hair.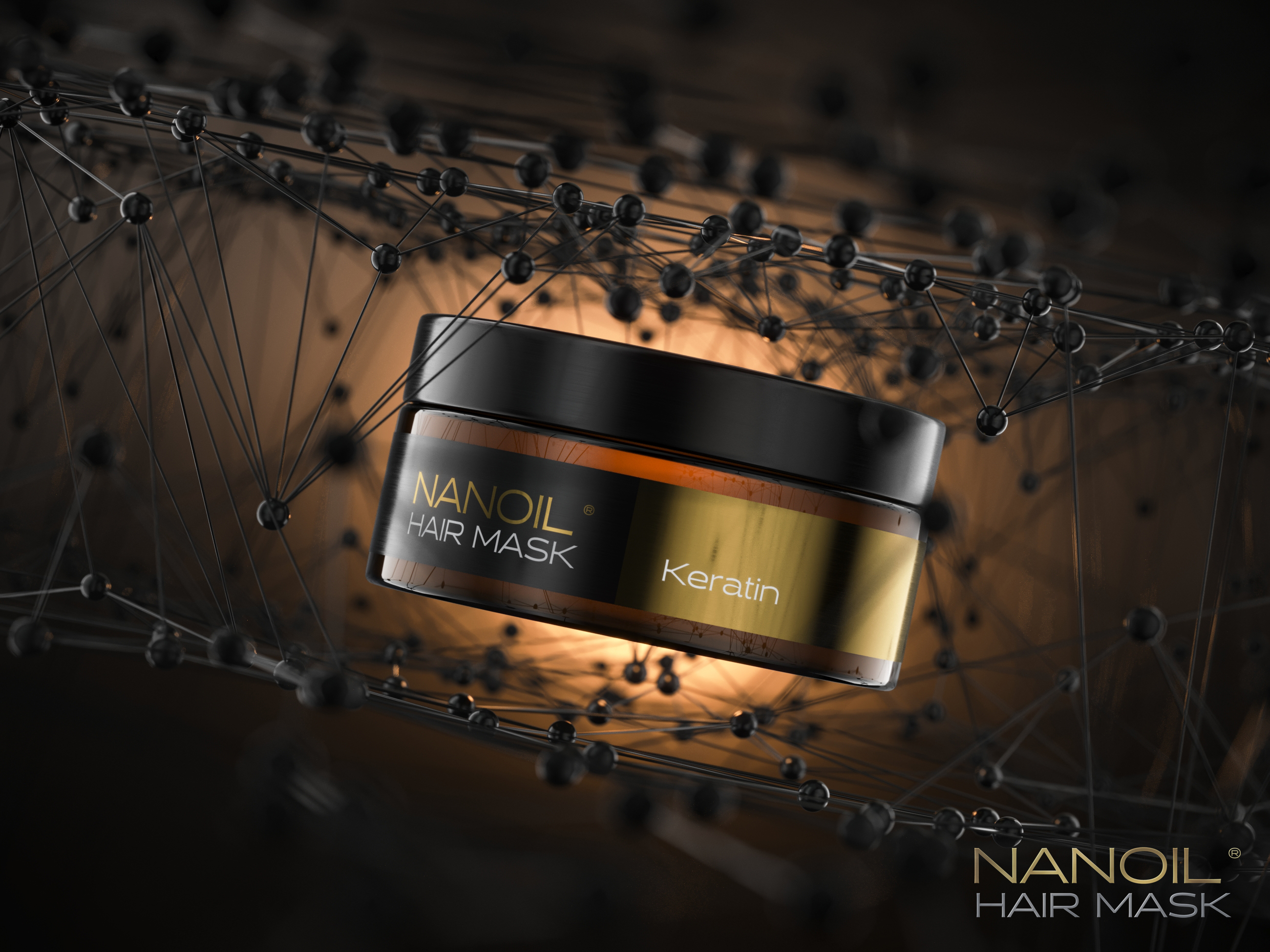 Every day our hair is exposed to tugging, breaking and damage – not only mechanical because there are more things that do harm to our hair, and they include toxins, sunlight and high temperature (e.g. blow drying). Even stress may contribute to hair uncontrolled hair loss which may lead to… boldness!
Fortunately, many types of the damage can be reversed by reconstructing the hair with keratin – a protein that our hair is build of. Where to find it? In hair care products! Developing good hair care habits of using quality cosmetics is the key to success.
Mask for damaged hair
Taking care of damaged hair isn't easy. These are strands that need not only moisturizing, protection and nourishment but also deep regeneration. This is when hair masks come to the rescue – definitely more powerful than conditioners, penetrating hair fast and supplying it with far more nutrients. Only a high quality hair mask is able to reconstruct damaged strands because it improves deepest hair layers and that translates into its higher efficiency. Naturally, you can expect to achieve this provided that you choose the best hair mask.
View this post on Instagram
One of the most interesting hair care products is keratin hair mask by Nanoil destined for professional at-home hair treatment. What secrets does this formula hide? Not without a reason this is one of the top-ranked products that deals with damaged hair. It needs just a few weeks to regenerate and reconstruct strands.
Nanoil Keratin Hair Mask
This mask works when other hair care products failed you. Keratin hair mask by Nanoil is a foolproof formula that instead of weighting hair down, delivers immediate effects. The first results such as smooth hair and shine boost are created after one use. Deep hair regeneration takes more time but with a little bit of patience you will enjoy long-term effects.
What does make Nanoil Keratin Hair Mask stand out from other similar products aiming at repairing damaged hair? There are a few things that you should know about this product. For example, Nanoil Keratin Hair Mask:
is formulated with hydrolyzed keratin whose tiny molecules penetrate hair effortlessly to start the reconstruction process from within;
has velvety texture that is super easy to apply to hair; You don't have to worry that it will weigh your hair down because it won't;
takes comprehensive care and improves hair appearance no matter its type; The best effects are noticed on damaged hair.
There are more ingredients used in Nanoil hair mask than just keratin, however, this is the key substance that handles the most important task. Another constituent is panthenol responsible for keeping moisture levels high. Some of you may know this substance by its nickname – provitamin of B5, which is recognized as the expert in hair care. Together with keratin, they make a perfect team to improve hair.

What are the benefits of Keratin Hair Mask Nanoil?
When it comes to the outcomes this product can be recommended even to the most demanding users. This carefully composed keratin hair mask that addresses numerous hair problems is able to:
repair damage
reduce hair brittleness
deal with splitting ends
leave strands stronger and thicker
improve resilience and bounciness
smooth hair our and enhance its natural shine
prevent moisture loss
shield hair from damage.
3-step hair regeneration
Achieving the above-mentioned effects doesn't require much sacrifice. Nanoil hair mask with hydrolyzed keratin is a product destined for those who are always in hurry, who don't have time for time-consuming hair treatments. This hair mask has to be applied to damp hair after washing. Spread the product evenly over the hair length and let it sit for 15-20 minutes. Later you can rinse it and style the hair as always. The most important thing is that just one application per week suffices to create perfect environment for hair to regenerate and carry out self-healing processes.
Does it feel that this is exactly what you dry and weak hair needs? Order Nanoil hair mask with keratin and get it delivered to your home.