Do you know that incorrectly applied face powder gives undesirable effects and makes your face look unflattering? To avoid this, you should learn the most effective way of putting on a face powder. Sit back and go on reading this short how-to to.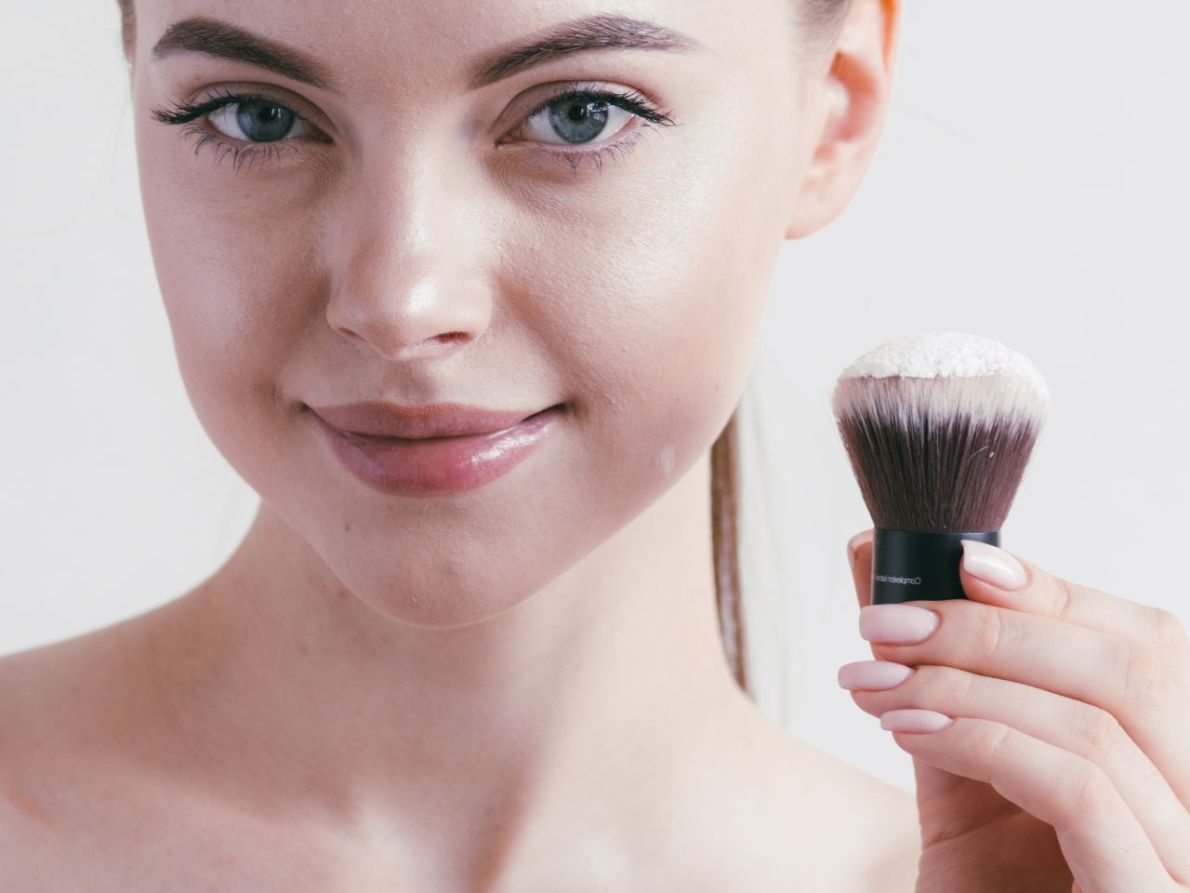 Let's begin with settling the main purpose of using a face powder. Perhaps you received a new face powder as a gift and you have no clue how to apply this color cosmetic to make the most out of it. So, for a start, let's go through the basic stuff.
How does a face powder work?
The key function of face powders is to set makeup. A good face powder extends makeup wear for even a few hours, that is why, it's a good idea to apply it always before having an important meeting on the schedule. The effects that face powders are able to produce come from their great absorbing properties – they absorb moisture and excess sebum, thus they reduce shine. Face skin treated with a powder appears to be smoother, even-toned and naturally less shiny.
Still, that's not all because there are also face powders that can condition and nourish skin while you wear them. For example, they may prevent dehydration, revive skin, rejuvenate and supply the skin with nutrients.
What is the best face powder?
The effects you achieve in makeup depend on the face powder you choose, therefore it's worth spending a few short moments on finding the most suitable products. However, in the case of face powders, there's no such thing like the ideal – you just have to get the one that satisfies all your skin needs best.
If you don't know which patch to choose while shopping for your face powder, the safest option would be if you first get a natural face powder – the one that is completely free from artificial additives, and whose base ingredients are natural, e.g. cosmetic clays, iron oxide, mica (applies only to mineral face powders), rice, bamboo or even silk. You can go either for loose or pressed face powders because the majority of this color cosmetics are available in both forms.
What are the best accessories to apply face powder with?
No matter which face powder you select, you have to get a special brush to apply it with. Probably this is the only color cosmetic that can't be applied using bare hands.
There are a few options. The sponge that comes with the packaging? Indeed, it's convenient because it's always at your disposal, yet this isn't the most precision tool. The best solution here is a big fluffy brush or a soft powder puff applicator. The good news is that such applicators are widely-available so you can get them in any drugstore, even online. And it's worth getting such tool because with them putting on loose face powder is child's play. They are nice to the touch and don't cause any allergic reactions. But most of all, such accessories will envelop your face with a sheer layer of powder, which is the very effect you want to create.
How to apply a face powder?
Now, it's time for a quick course on face powder use. Here is the step-by-step manual on applying face powder.
Do full makeup (face powder is applied as the last one).
Collect a small amount of the product either with a brush or puff applicator.
Dust the face with the powder gently, use circular motions.
Using stamping motion try "pressing" the powder into the skin.
Finally, sweep off the excess product from the face using circular motions.
[SIMPLE TRICK]
If you want to make sure that you don't apply too much product, blow its excess off the applicator. In this way you will not only avoid the effect of white face but also you will apply only as much product as needed to create a natural-looking effect. Only when you use the right amount of powder, you can be sure that it will blend into the skin flawlessly and work covertly.