Mascara and falsies are no longer enough? Go for unusual, makeup-changing accessories and methods. These eyelashes won't let you go unnoticed. Here are the strangest lash trends.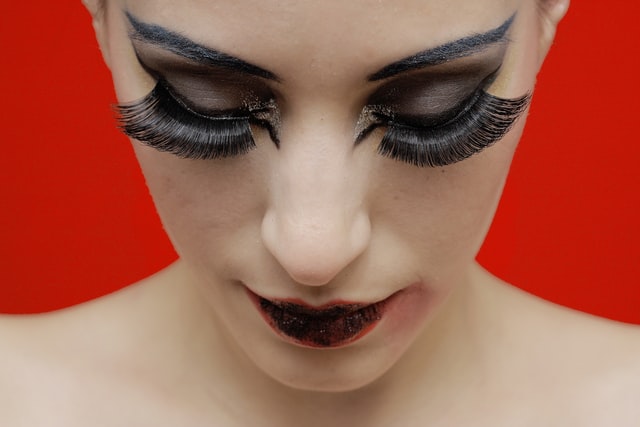 Following latest trends isn't always a good idea. Some of the ideas of designers and cosmetic brands are good exclusively for the carnival. Still, you should know what may surprise you in a few years. Some eyelash trends are truly shocking!
LED Lashes
Shining lashes? Why not! LED fiber false lashes have been available for some time. Truly eye-catching, luminous, colorful – just like Christmas tree lamps. Interestingly, you can buy interactive LED lashes which are flashy when you dance or jump. A party must-have.
Rainbow Eyelashes
Another suggestion – rainbow falsies. They attract attention with the variety of colors. The effect is really interesting. You can achieve it in two ways – apply rainbow fake lashes or use different colors of mascara. The other option requires more time.
Wearing falsies… backwards
An ideal option for hipsters. Applying falsies the other way round doesn't go with the mainstream. Why do it? For an interesting and extraordinary effect which is going to surprise lots of people. You attach the ends of falsies to the lash base. The effect of spider legs may appeal to some of you.
Christmas Lashes
An ideal option for those who are into trinkets and like to share the Christmas spirit. What do you need? Christmas tree decorations and adhesive for falsies. Take some glitter or mini zircons to apply to your lashes. Who said you can't decorate eyelashes like a Christmas tree?
Attention!
You must remember that all unconventional treatments and strange trends in lash styling may be harmful. It's a good one-off option. If you use them too often, they largely weigh natural lashes down. An eyelash growth serum may be the only product which saves them, strengthening, repairing, delivering elasticity and preventing the lash loss. Used regularly, it increases lash growth, protects from damage and makes the lash line fuller.