The best face serum? Only if it's effective. The choice is simple: Aloe & White Tea Face Serum by Nanoil. Find out how powerful the combination of those two ingredients can be and enter the world of effective skin care – stay in harmony with nature!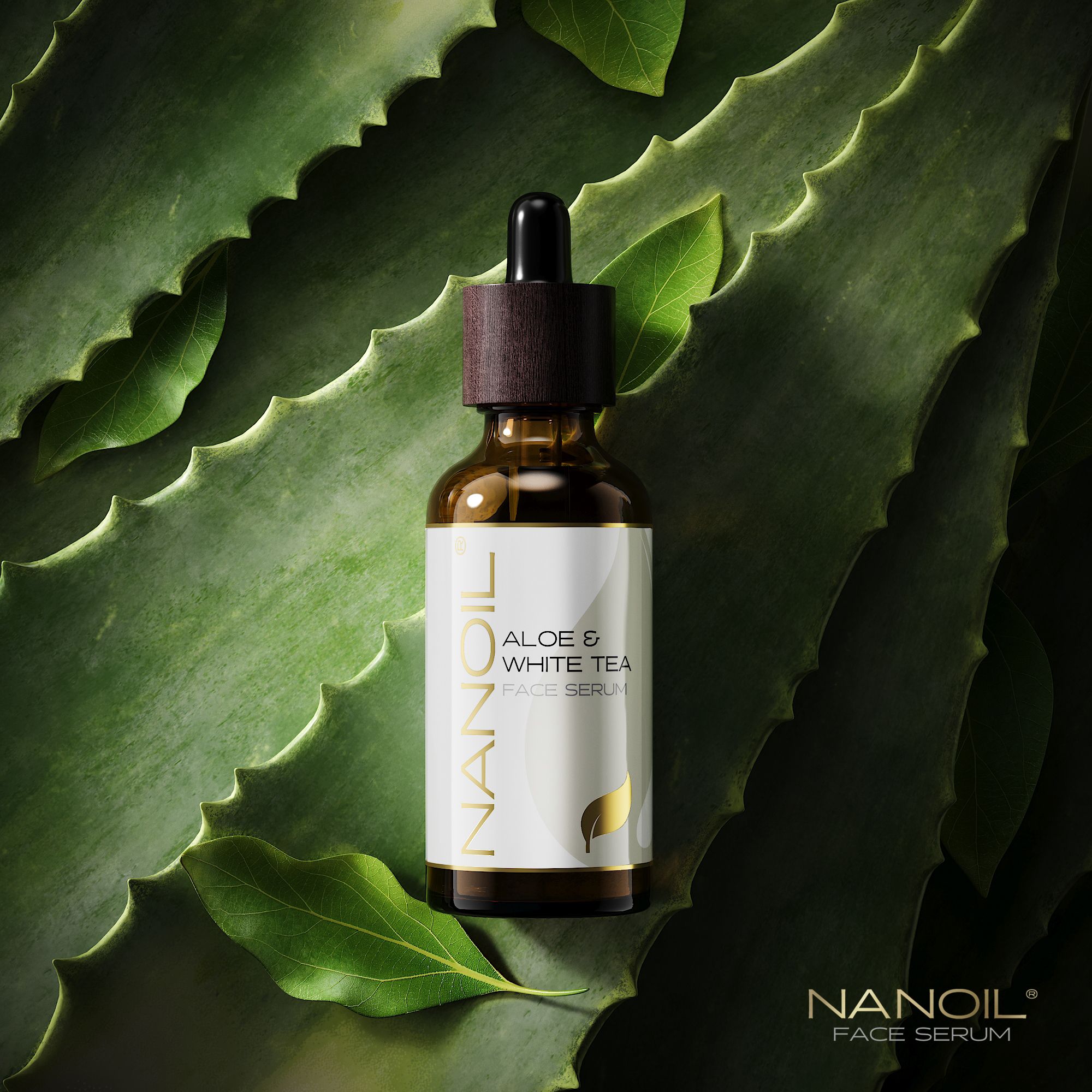 Some people divide cosmetics into 40+, 50+ and 60+. Others acknowledge the division into nourishing, resilience improving or moisturizing serums. The truth is that there are some universal products that are suitable for all skin types and which are able to fulfill several tasks in a single step. The prime example here is Aloe & White Tea Face Serum by Nanoil.
Nanoil face serum
This is a pretty new arrival that is taking face care market by a storm. Face serum by Nanoil equals four separate versions of a lightweight and condensed cosmetic that takes daily skin care to a whole new level, proving at the same time that professional and effective skin care has to be neither costly nor complicated.
Once you visit www.nanoil.us, you can choose among four face serums launched by Nanoil (50 ml / 1.69 oz): with vitamin C, with retinol, with hyaluronic acid as well as with aloe and white tea.
Nanoil face serum with aloe and white tea is the best bet for those who count on natural nourishment boost, moisture and skin regeneration. This serum is incredibly lightweight and handles harmful free radicals really well. What are other benefits of implementing this serum into your daily face care regimen?
Aloe and white tea: A deeply nourishing duo
This face serum's list of ingredients is short, which is good because we need minimum substances delivered in a condensed from to restore the natural beauty to skin. This is why face serum Nanoil Aloe & White Tea owes its beautifying action to two substances:
ALOE (Aloe Barbadensis Leaf Juice) is placed at the very top of list of ingredients, and is responsible for delivering moisture and regeneration to skin; it's pH is slightly acidic which is why it's able to restore acid-base balance; additionally, aloe cleanses skin, has an antibacterial effect, soothes irritations and shields skin from harmful factors such as sun, toxins, free radicals.
WHITE TEA

(

Camellia Sinensis Leaf Water

) is the second ingredient listed which means that it gives as many beneficial properties as aloe does; it's a potent antioxidant that makes skin more resistant to ageing processes which in turn helps skin remain youthful for longer; additionally white tea nourishes, reduces redness and revitalizes.
What's important to add, the composition of Nanoil Aloe & White Tea Face Serum is made out of natural substances only. It doesn't contain parabens, colorants, synthetic aromas or silicones.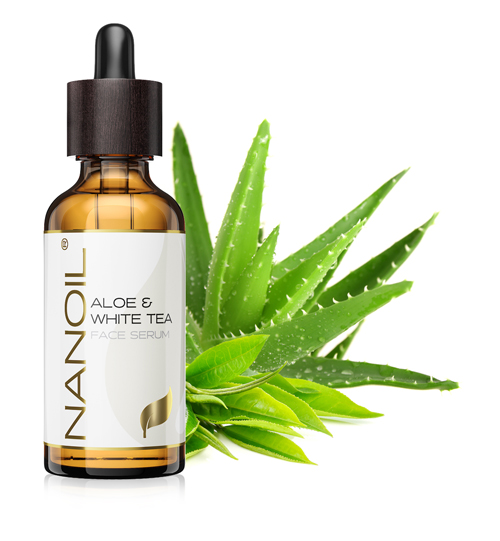 Is Nanoil face serum worth using?
Definitely, this is a cosmetic that all fans of professional and advanced skin care should get along with. This cosmetic effectively improves skin which can be observed within the first weeks of use. If you're looking for a product that offers you a quality ingredients and high performance, it's worth considering Aloe & White Tea Face Serum by Nanoil that:
improves skin moisture levels
protects skin from free radicals
soothes irritations and reduces wrinkles
revitalizes skin and nourishes its deepest layers
evens out skin tone and adds shine
counteracts skin ageing processes (deals with premature ageing)
All of the above-mentioned goals can be achieved together with face serum with aloe and white tea by Nanoil. It isn't difficult! The product comes with a convenient glass dropper – all you need to do is collect a drop or two and massage it into clean face morning and evening. Only this is required to restore youth to skin and preserve the effect of beautiful and resilient skin for long!