Are you dreaming of wearing perfectly-arranged hairdos that looks like a natural style? If the answer is positive, then you absolutely must have a go at Nanoil Hair Styling Spray – one out of three hair-styling products launched by a world-recognized cosmetic brand. This lightweight hair mist has already won hearts of hundreds of women from all over the globe. Will it also win your heart?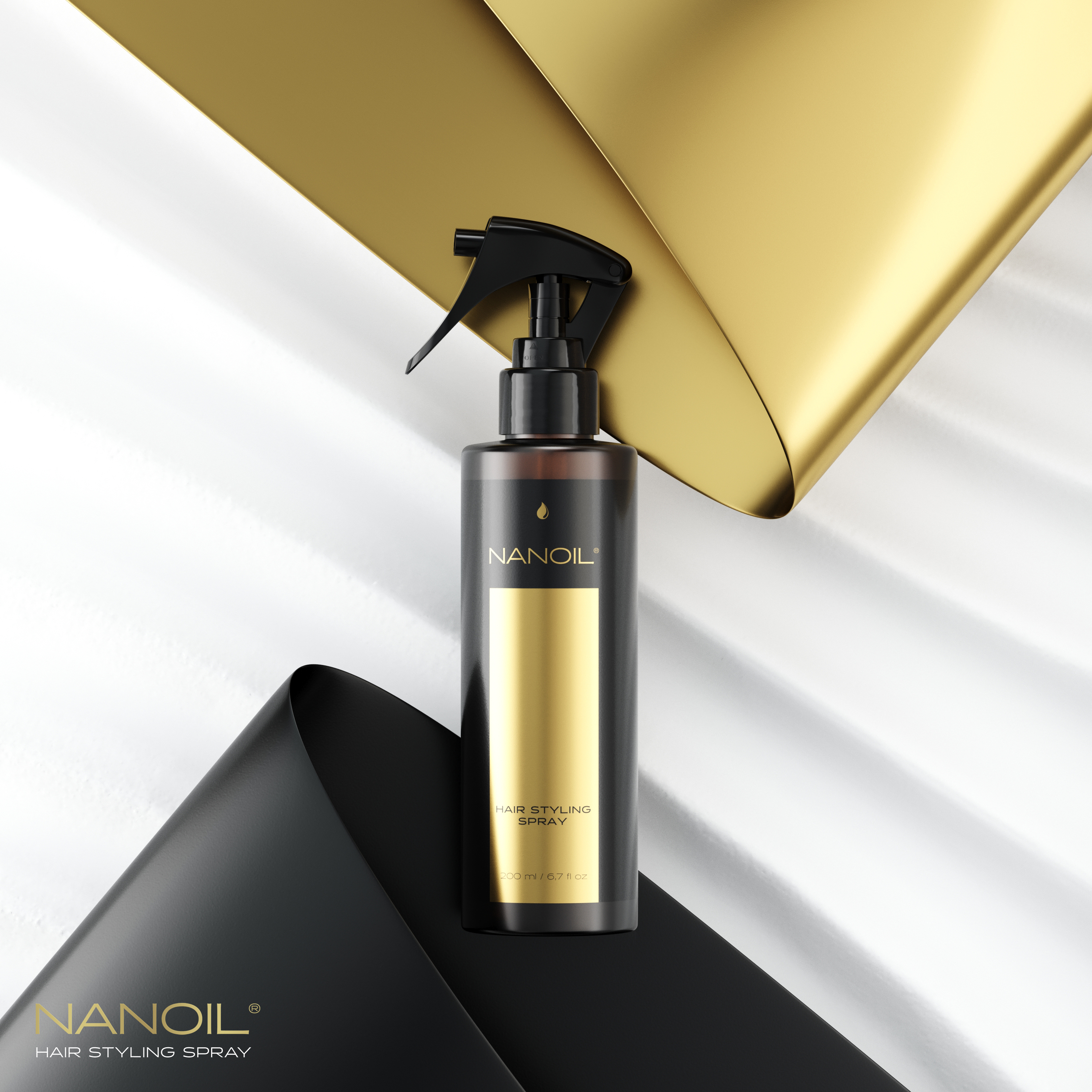 Nanoil Hair Styling Spray: Arrange your hair at home like a PRO
Are you looking for a product that delivers amazing results without causing any damage to the strands? A product that keeps your hairdo stay in place for the entire day? Seek no further because Nanoil hair-styling spray may be your best bet. Now you can create the salon-worthy effects in the comfort of your home. For a couple of months Nanoil has been offering – and actually included into its regular offer – a cosmetic that improves hair manageability, extends hold of a style and cares for the strands at the same time! The best bit is that you can make use of this spray both on a day-to-day basis and before special occasions. No matter when you use Nanoil Hair Styling Spray, it'll keep your hair remain in place and look the way you want it to for the entire day – no touch-ups needed!
How does Nanoil hair-styling spray work?
Nanoil Hair Styling Spray is a lightweight and extremely effective cosmetic whose main aim is to make your curls, waves and buns – even when intended to look messy – remain spotless longer. Formulated with delicate ingredients, this spray causes no damage to the strands. Neither does it cause dehydration, which is sadly a common thing for most popular products serving the same purpose. Instead of heavy silicons that are hard to remove from hair, Nanoil spray is made up of only hair-friendly ingredients that you can remove with any shampoo easily. It keeps your hairdos in check without leaving no trace.
What is Nanoil Hair Styling Spray made from?
As mentioned above, Nanoil Hair Styling Spray contains nutrients and vitamins that don't have any negative impact on hair condition. See the key ingredients that you can find in this elegant black-and-gold bottle.
Ingredients responsible for increasing the manageability of hair and extending the hold.
Castor oil for boosted shine, intensified color and protection. This naturally-derived ingredient doesn't weigh hair down.
Pro-vitamin B5 (panthenol) is known for repairing and leaving you with prettier-looking – because moisturized – hair.
How to use Nanoil Hair Styling Spray
Here is another big advantage of this Nanoil product. It doesn't only take you just a couple of seconds to put it on the hair, but you can also apply it in a few ways.
Put Nanoil hair-styling spray to the hair after shower to arrange a desired hairdo. It's suggested removing the excess water with a towel before spraying the hair with the product.
Spray dry hair with Nanoil Hair Styling Spray to fix the hairdo and extend its hold.
Apply it at any time of the day you want, for example, after doing some touch-ups.
NOTE
Nanoil Hair Styling Spray is currently top-rated hair-styling product. Users value it for delivering promised results, being available at an affordable price, and for lasting long. Positive reviews prove that women fell in love with arranging hairdos with Nanoil.
If you want to have a go at Nanoil Hair Styling Spray, you can order it on the official Nanoil website – nanoil.us. While visiting this page, don't forget to have a look at other Nanoil beauty products that are designed to maximally ease your daily beauty routine.