Has anyone of you women ever wondered, how many cosmetic layers can be applied on a face? Let us count, a make up foundation, a powder, a blusher or a bronzer, an eye-shadows, a mascara… Oh! And do not forget about a make up base extending the hold of make up!
Why should one use a make up base? Basically, this cosmetic is to be applied to protect make up foundation, powder or other cosmetics from running down the face as the days goes by. In other words, the make up base provides durability of the cosmetic products with which we perform our make up. The make up base extends also colour cosmetics working and keeps their properties (for example, the make up foundation should cover imperfections and the powder give the matte effect) on a highest level of performance. This durability of cosmetics can be provided only by the make up base of appropriate consistency and functions. What is more, these products should be chosen accordingly to one's needs and skin type. In the light of what have been mentioned, is Rimmel, Primer Lasting Finish worth using?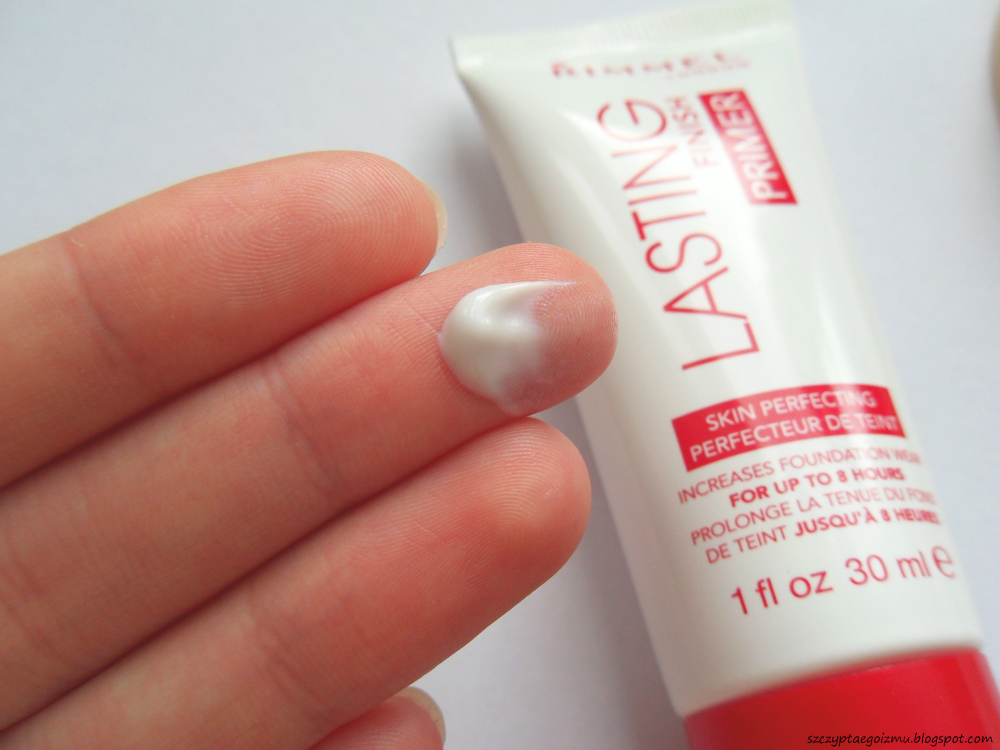 Let us start with the package. The make up base is sold in a white tube with a red cap. Certainly, when we use the most of the cosmetic, we are forced to cut the tube in a half to get to the residues of the product. This is totally normal when it comes to this kind of package. What is more, the capacity of Primer Lasting Finish equals 30 ml.
Rimmel make up base's consistency resembles slightly an oily cream. Therefore, two advantages can be added to this product. Firstly, it moisturizes face skin so anybody who has oily skin can use this product without hesitation. Secondly, it is easy to apply. Nevertheless, this is also connected with the drawback. Due to the cosmetic's oily consistency, a make up foundation is not going to last long and skin will gradually become glossy (this sort of effect is typical for oily skin owners.) Coming back to the physical properties of Primer Lasting Finish, it is of white colour and completely flavourless. What is more, this cosmetic is fairly productive. The application of Rimmel's make up base is similar to any cream application – suffice to pat the cosmetic into face skin with the aid of our fingertips.