Radically No Surgetics Age Defying & Perfecting Foundation from Givenchy is definitely a unique cosmetic among other make-up foundations. The product contains several advantages that will please mature skin owners as well as those women who seek for natural effect of skin imperfections coverage and skin tone evening.
Rejuvenating make-up foundation Radically No Surgetics from Givenchy is closed in a transparent glass bottle. Thanks to this package, each of us will be able to observe the level of cosmetic consumption easily and buy another one in advance. After all, it is better to be safe than sorry. What is more, a single bottle contains 25 ml of the cosmetic. Furthermore, the bottle ends with a pump that eases the make-up foundation dosage. Due to this applicator, we are able to distribute the very amount of the cosmetic that is required to apply a single layer of Radically No Surgetics. Moreover, the product has got also a plastic cap of pink colour with Givenchy logo placed on it.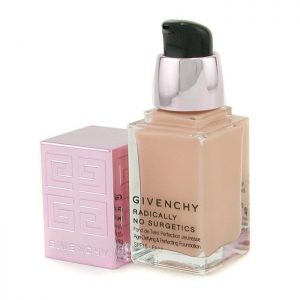 Radically No Surgetics make-up foundation contains two extremely important features. Firstly, it is able to rejuvenate skin. Due to special substances, complexion becomes smoother, more tautened and elastic. As a consequence, the face shape is improved and collagen fibers are tautened. Basically, skin looks more radiant, fresh and soft. Secondly, the foundation provides delicate light imperfections coverage. Certainly, if the second layer applied, then the effect of coverage is strengthened. Unfortunately, women struggling with considerable discolouration marks, have visible acne or dark scars, then they might be unsatisfied with the manner of Radically No Surgetics from Givenchy working. Simply, the make-up foundation is not powerful enough to hide all skin imperfections. especially the bigger ones. On the other hand, the cosmetic provides skin refining, evening skin tone, dark circles under eyes camouflage and improvement the general condition of face skin.
As a matter of fact, the make-up foundation from Givenchy has liquid consistency. Therefore, it is advised to apply it with a brush since unattractive marks or smudges might be created if applied with fingertips. Worth mentioning, the cosmetic is available in beige shades including either yellow or orange pigments. These kinds of combinations are perfect for pale complexion owners. Last piece of information, to make Radically No Surgetics hold on face better, it is suggested to apply a highlighting or transparent powder afterwards.